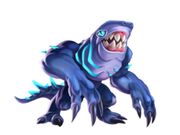 Hey everybody. I'm Shadowstorm48. I am currently a Ranking Council member and admin here, and I am the creator and curator of the Classic and Grand Duels Viability Rankings, as well as helping with the TWVR and the "Top:___" pages. I've been on this wiki for a while, and I'm also active in the discussion section on the other ML wiki, so you can find me there. I've also lately been working on helping some other people to overhaul the heck out of the uncommon and rare wikis (Uncommon and Rare), and I'm an admin on the Uncommon one.
My teams currently are R2 Wyrmlad, R2 Hornet, R1 Draghar for attack, and R0 Eisul, R0 Helgudin, R0 Nikasia for defense. My first legendary was Oghma, my favorite legendary is Draghar, my first diamond relic was Baltasar's Mask, my first R5 monster was Rhodent.
I play Magic: the Gathering, so that's where my profile picture comes from. I also play Dragonvale, Terraria, and Clash of Clans, so there's that... This game is more fun though.
I've been playing ML for close to 3 years now, and I'm level 100 in game, and I am almost entirely f2p, except when I get a gift card or something. My IGN is Jeremy, the leader of the MLCW team (Brains of MLCW). My monster power currently is about 28,000.
Anyways, that's it. Feel free to contact me if you need help or need anything from me.
My favorite pages
Edit
Why would I have favorite pages?
Community content is available under
CC-BY-SA
unless otherwise noted.